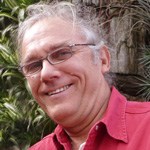 As an artist, my work marries traditional abstract Expressionism with digital technology. The integrity of the
basic underlaying rules of design and form have always been important. Inspiration comes from the colors
and forms found in and influenced by experiences with art history, architecture and sculpture. Using art as
my voice, the work is alive with passion and reflective of curiosity and wide open interpretations of life's
challenges.
The work is authentic and personal with much spontaneous activity, a true reflection of the political ongoing
struggle which I grapple with. Sometimes the brush stroke involves a rhythmic back and forth and other
times unconstrained, letting things happen naturally. This exploration requires many alterations and intuitive
approaches and each piece of work is open to my perspective and interpretation of the world I live in.
Cheers,