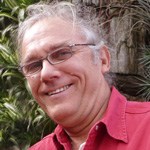 The history of western art has always been marked by a relationship between the arts and the evolution of modern science and technology. Artists have always struggled with originality, color, space, design and reason. Like scientists, they study materials and tradition to turn that information into works of art.
The work I produce reflects the personal marriage I have made between the highly sophisticated devices including applications of digital technology and the sensual experience merged with subjective, intuitive, impulses of Abstract Expressionism. This offers me a strong and powerful connection between both worlds. I attempt to work at a subliminal level, thereby letting the sensate immediacy of colors, textures and forms guide me. The iPad and a palette of applications allows me to do this anywhere at any time.
I  am interested in the sense of wonder, beauty, the magic of spontaneity that inspires me to make art. Returning to physical painting is granting me the opportunity to grapple once again with the material, chance encounters with a multitude of layers of built up pigment. It represents another language only bound by my hand and gravity.
Cheers,