About Digital Archival Prints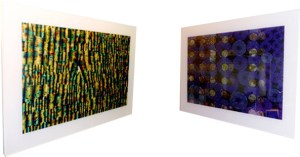 The Archival printer produces extremely high-quality output on silver halide photographic print materials. The Epson printer is recognized as one of the best printers in the world and can generate a maximum print size of 50" wide by 130 feet long -- a wide variety of sizes based on substrates and materials. The industry is changing all the time. It uses RGB laser beams similar to those used by Lightjet printers, printing directly from your digital file to produce a staggering array of continuous tones on silver-halide photographic paper, yielding a digital Type C print. There are several advantages to using lasers as a light source, including higher D-max levels and smoother gradation than non-laser printers (such as the Chromira). We print on Fuji Crystal Archive material and offer the following choice of paper finish:
RC paper – It is widely use for wedding album, portrait, or trade show graphics. Available on luster, glossy, or matt finish.
Duratrans or Fujitrans – backlit film for lightbox application.
Metallic – has a metallic look on where is white; for fine art or commercial application.
FujiFlex or DuraFlex – high glossy polyester base material, similar to Cibachrome or Ilforchrome, for fine art, commercial, POP application. We highly recommend this paper for front mounting.
B&W RC, B&W fiber base paper – is the true silver black and white paper. The image is pure B&W without any color costing. Recommended for fine art, portrait, and museum prints.
Also called face mounting or Diasec, front mounting is a process of mounting the graphic face on a clear acrylic sheet by using optically clear adhesive, and the back of graphic on another substrate. The graphic is being sandwiched (acrylic sandwich) between two sheets of substrates. The finished piece is called PlexiFlex or PlexiPhoto. There are many kinds and thicknesses of substrates for backing, such as Plexiglas (Dual Plexiglas or PlexiPleix), Sintra, Dibond, Aluminum. The most common combination is 1/8" Plexiglas front mount and 1/4" black Sintra back mount with wood inset frame in the back. The wood inset frame has a French cleat for easy installation and makes it look floating off the wall once installed. The high glossy, clear acrylic in front of the graphic gives the image an elegant and stylish look while protects the image from moisture and physical damage.
The mounted Plexiglas can also be framed in a shadow box instead of using inset frame. The shadow box adds another layer of protection because the edge is covered by the frame and the surface is recessed in the frame.
If you want to give your image the ultimate protection, you should order UV protect and Abrasive resistant Plexiglas. The UV protect feature will filter out 98% of the harmful UV light. UV light is the main factor which fades the image over time. The abrasive resistant feature give the Plexiglas additional protection against any physical damages.
We can face mount most of printing material, but from our experience we found that Polyester base material such as FujiFlex, ensures the strongest bonding between the layers within itself. This strong bonding ensure that no separation will happen. We highly recommend FujiFlex prints for front mounting. Front mounting is also recommended for mounting Duratrans or Fujitrans, usually 1/8" clear Plexiglas front only. These are professionally produced and the highest quality product.